Destiny Fulfilled
Destiny Fulfilled
Only love can save them…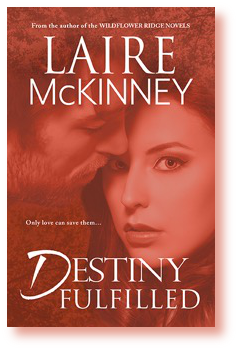 Wren O'Hara is waiting for the day she succumbs to mental illness like her mother. When she is attacked by a psychotic client at work, and saved by what must be an angel, she fears the time for insanity has come.
Little does she know, her savior is an immortal warrior druid named Riagan Tenman, and that he will challenge everything she ever thought she knew about reality.
Now Wren must decide if the fantasy unfolding before her is true, or if she has finally lost her mind.

Amazon Barnes & Noble Google Play Kobo iTunes






What a FANTASTIC novel that I couldn't get enough of reading! I liked that I found a NEW author who whetted my appetite for more paranormal and I MUST read more!


Linda, Goodreads 5 star review


What a great read with lots of romance and fantasy characters to boost your imagination. Wren and Ray are a wonderful pairing and throw in a wonderful dog and you have a great story. I look forward to reading more books from this author.


LibraryThing Early Reviewers


Destiny Fulfilled is the kind of book you start reading just to pass the time but end up not putting down until you are finished. This was my first book by Laire and I look forward to reading more in the future.


4 stars from Finding Magic in Books